Pediatric Dentists are the pediatricians of dentistry. A pediatric dentist has two to three years of specialty education after dental school and focuses his/her career on the treatment of children's dental needs. Their area of expertise lies in being the main provider for babies, toddlers, children and teens together with those with unique health requirements.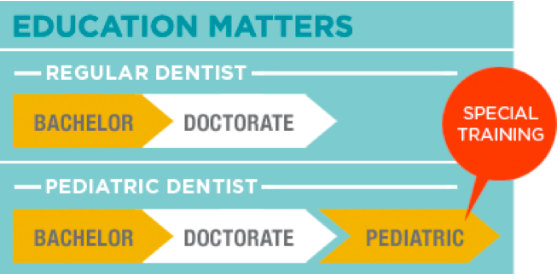 Your children are special and that calls for exceptional care. Many children's first experience with a dentist happens at an office focused on adult care. Dental care in this environment is often intimidating and frightening for kids. This first impression can create anxiety and avoidance of the dentist that will last a lifetime.
We designed Super Smiles to make your child feel safe, calm and carefree. Our office has been created with your child in mind. From watching their favorite movie during treatment, to toys in the waiting room, we have strived to create an atmosphere that leaves a lasting, positive memory. We have handpicked a staff that is passionate about your child's comfort and care. Our supported dentists have been educated at premier pediatric dental establishments and have committed their careers to the treatment of children.
Our office treats your child from infancy through late adolescence, as well as those with special needs. For the comfort of your child the office offers sedation dentistry, as well as General Anesthesia at Joe DiMaggio Children's Hospital. This allows all treatment to be completed at one time with less stress on you and your child.
Your child's oral health is very imperative. "Baby" teeth or primary teeth can help in building a passage that permanent teeth can follow in and also help your children speak clearly and chew easily. Utilizing a professional whose expertise is in Pediatric Dentistry for your child's dental hygiene will prevent troubles later on in life. The American Academy of Pediatric Dentistry suggests that you plan for your child to see a Pediatric Dentist before their first birthday or after their first tooth shows.